Genomics and Disease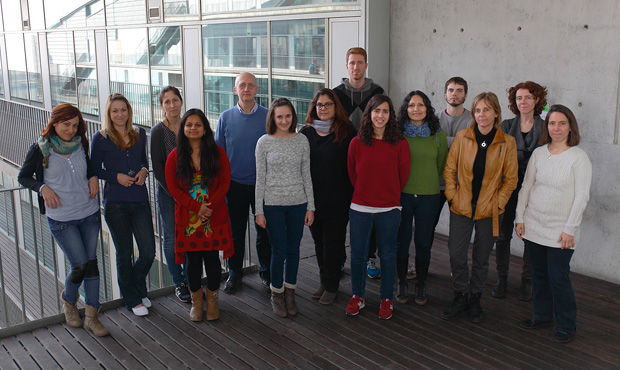 GROUP LEADER:

Xavier Estivill

STAFF SCIENTIST:

Eulàlia Martí

POSTDOCTORAL FELLOWS:

Mariona Bustamante (CREAL), Georgia Escaramis (CIBERESP), Marc Friedländer (until June), Anna Houben (until June), Aparna Prasad, Raquel Rabionet

PhD STUDENTS:

Nadia Vilahur (CREAL) (until September), Laura Domènech, Joan Pallarés

TECHNICIANS:

Marta Morell, Anna Puig, Yaris Sarria (CREAL), Mª Teresa Zomeño

VISITING SCIENTISTS:

Jackie Frost (University of the Witwatersrand, South Africa, until March), Tim Spector (July-September)
---
Summary
Our lab performs experimental and bioinformatics research in medical genomics. The group explores how different types of genetic variants contribute to human diseases, mostly neuropsychiatric, neurodegenerative and inflammatory disorders. The interaction of genetic factors with environmental conditions is one of the main areas of research of the group and is addressed by integrating epidemiological and clinical data with genetics information. This interaction can be evaluated throughout a longitudinal approach in the clinical course of each human disorder. We study very well characterized cohorts of patients and use high-throughput genomic platforms and functional studies, including longitudinal investigations of patients at different time-points and cohorts in which exposure to environment has been monitored. Different activities of the group are coordinated towards translational and precision medicine.
---
Research Projects
Genetic variants and liability to common traits and complex disease
Longitudinal and comprehensive analysis of mental diseases
Profiles of non-coding RNAs in neurodegenerative disorders
Environmental modulators of genetic factors in human disease
---
Selected Publications
Boraska V, Franklin CS, Floyd JA, Thornton LM, Huckins LM, Southam L, Rayner NW, Tachmazidou I, Klump KL, Treasure J, Lewis CM, Schmidt U, Tozzi F, Kiezebrink K, Hebebrand J, Gorwood P, Adan RA, Kas MJ, Favaro A, Santonastaso P, Fernández-Aranda F, Gratacos M, Rybakowski F, Dmitrzak-Weglarz M, Kaprio J, Keski-Rahkonen A, Raevuori A, Van Furth EF, Slof-Op 't Landt MC, Hudson JI, Reichborn-Kjennerud T, Knudsen GP, Monteleone P, Kaplan AS, Karwautz A, Hakonarson H, Berrettini WH, Guo Y, Li D, Schork NJ, Komaki G, Ando T, Inoko H, Esko T, Fischer K, Männik K, Metspalu A, Baker JH, Cone RD, Dackor J, Desocio JE, Hilliard CE, O'Toole JK, Pantel J, Szatkiewicz JP, Taico C, Zerwas S, Trace SE, Davis OS, Helder S, Bühren K, Burghardt R, de Zwaan M, Egberts K, Ehrlich S, Herpertz-Dahlmann B, Herzog W, Imgart H, Scherag A, Scherag S, Zipfel S, Boni C, Ramoz N, Versini A, Brandys MK, Danner UN, de Kovel C, Hendriks J, Koeleman BP, Ophoff RA, Strengman E, van Elburg AA, Bruson A, Clementi M, Degortes D, Forzan M, Tenconi E, Docampo E, Escaramís G, Jiménez-Murcia S, Lissowska J, Rajewski A, Szeszenia-Dabrowska N, Slopien A, Hauser J, Karhunen L, Meulenbelt I, Slagboom PE, Tortorella A, Maj M, Dedoussis G, Dikeos D, Gonidakis F, Tziouvas K, Tsitsika A, Papezova H, Slachtova L, Martaskova D, Kennedy JL, Levitan RD, Yilmaz Z, Huemer J, Koubek D, Merl E, Wagner G, Lichtenstein P, Breen G, Cohen-Woods S, Farmer A, McGuffin P, Cichon S, Giegling I, Herms S, Rujescu D, Schreiber S, Wichmann HE, Dina C, Sladek R, Gambaro G, Soranzo N, Julia A, Marsal S, Rabionet R, Gaborieau V, Dick DM, Palotie A, Ripatti S, Widén E, Andreassen OA, Espeseth T, Lundervold A, Reinvang I, Steen VM, Le Hellard S, Mattingsdal M, Ntalla I, Bencko V, Foretova L, Janout V, Navratilova M, Gallinger S, Pinto D, Scherer SW, Aschauer H, Carlberg L, Schosser A, Alfredsson L, Ding B, Klareskog L, Padyukov L, Courtet P, Guillaume S, Jaussent I, Finan C, Kalsi G, Roberts M, Logan DW, Peltonen L, Ritchie GR, Barrett JC, Estivill X, Hinney A, Sullivan PF, Collier DA, Zeggini E, Bulik CM.
"A genome-wide association study of anorexia nervosa."
Mol. Psychiatr, 19:1085-1094 (2014).
Docampo E, Escaramís G, Gratacòs M, Villatoro S, Puig A, Kogevinas M, Collado A, Carbonell J, Rivera J, Vidal J, Alegre J, Estivill X, Rabionet R.
"Genome-wide analysis of single nucleotide polymorphisms and copy number variants in fibromyalgia suggest a role for the central nervous system."
Pain, 155:1102-1109 (2014).
Mateu-Huertas E, Rodriguez-Revenga L, Alvarez-Mora MI, Madrigal I, Willemsen R, Milá M, Martí E, Estivill X.
"Blood expression profiles of fragile X premutation carriers identify candidate genes involved in neurodegenerative and infertility phenotypes."
Neurobiol Dis, 65:43-54 (2014).
Trujillano D, Perez B, González J, Tornador C, Navarrete R, Escaramis G, Ossowski S, Armengol L, Cornejo V, Desviat LR, Ugarte M, Estivill X.
"Accurate molecular diagnosis of phenylketonuria and tetrahydrobiopterin-deficient hyperphenylalaninemias using high-throughput targeted sequencing."
Eur J Hum Genet, 22:528-534 (2014).
Friedländer MR, Lizano E, Houben AJ, Bezdan D, Báñez-Coronel M, Kudla G, Mateu-Huertas E, Kagerbauer B, González J, Chen KC, LeProust EM, Martí E, Estivill X.
"Evidence for the biogenesis of more than 1,000 novel human microRNAs"
Genome Biol, 15:R57 (2014).