CRG/UPF Proteomics Unit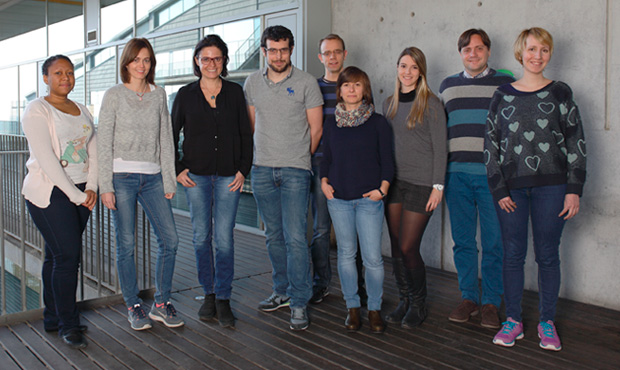 HEAD OF THE UNIT:

Eduard Sabidó

SCIENTISTS:

Eva Borràs, PhD (UPF), Cristina Chiva, PhD (UPF), Guadalupe Espadas-Garcia (CRG), Francesco Mancuso (CRG), Ivonne Peña (UPF), Jennifer Garcia (CRG), Salvatore Cappadona (CRG)
---
Summary
The CRG/UPF Proteomics Unit is a joint effort of Universitat Pompeu Fabra (UPF) and the Centre of Genomic Regulation (CRG) to create an innovative core facility that provides high quality proteomics services to its final users, by providing proper expertise and advice, and by developing new methods and techniques.
The Proteomics Unit provides full service in a variety of proteomics applications including sample preparation, protein quantification, identification of post-translational modifications, and data analysis, among others. In addition to the services provided to the research community, the Proteomics Unit also promotes internal technology-driven research as an essential task to keep the unit at the forefront of the proteomics field.
As a reference proteomics centre, the Unit has state-of-the-art equipment consisting on high resolution liquid chromatography and electrophoresis systems, and four advanced mass spectrometers to identify and quantify the proteins of interest. Currently, the Proteomics Unit has two LTQ-Orbitrap mass spectrometers, a Q-Trap mass spectrometer, a high-end Q-TOF mass spectrometer, three nanoLC-HPLC, and a microLC-HPLC, thus being one of the best well-equipped units in Europe. The instruments available at the Proteomics Unit cover the most advanced techniques of the proteomics field, and are accessible to national and international scientists.
The Proteomics Unit is part of the "Plataforma de Recursos Biomoleculares y Bioinformáticos (ProteoRed, Instituto Carlos III)" and "Proteomics Research Infrastructure Maximizing knowledge EXchange and access (PRIME-XS)", a prestigious international consortium of twelve partners that grants access to state-of-the-art proteomics technology to the European biological and biomedical research community.
---
Services
The Proteomics Unit is offering a wide range of services to its users that cover many different types of sample preparation and fractionation, post-translational modification enrichment, depletions, protein identification and quantitation, experimental design, and data analysis.
Detailed list of services currently offered by the Proteomics Unit:
Sample Preparation
Protein Digestion (FASP, In-solution, In-gel)
Chromatographic Protein and Peptide Separation (Reverse Phase, Strong Cation Exchange, Strong Anion Exchange, ERLIC, Size exclusion)
Phospho-Peptide enrichment (TiO2, IMAC)
Plasma depletion (IgG+Alb, Top20, glyco-enrichment)
Identification techniques
Protein Identification by nLC-MS/MS
Protein Identification by 2-Dimension Polyacrylamide Gel Protein Separation
Identification of Protein post-translational modifications (phosphorylation, glycosilation, methylation, acetylation, ubiquitination)
Molecular weight determination of peptides and proteins
Quantification services
Protein quantitation by label-free strategies of complex mixtures
Protein quantitation by non-isobaric chemical labelling of complex mixtures (SILAC, Dimethyl, AQUA Peptides)
Protein quantitation by isobaric chemical labelling of complex mixtures (iTRAQ/TMT)
Targeted proteomics
Selected Reaction Monitoring Assay development
Protein quantitation by Selected Reaction Monitoring
Experimental design and Data analysis
Experimental design for mass spectrometric studies
Mass spectrometric data analysis and interpretation
---
Research Projects
The Proteomics Unit promotes internal technology-driven research as an essential task to develop new applications and thus improve the services offered to the users.
Development of accurate and precise mass spectrometric protein quantitation methods to profile proteome and phosphoproteome responses to external perturbations.
Generation of new high-throughput targeted proteomics methods for improved protein quantitation and sensitivity in large sets of samples.
Development of experimental and computational tools for the identification and quantification of post-translational protein modifications.
Optimization of chromatographic separation techniques
Biomarker screening and validation.
---
Training and dissemination activities
User training is an essential part of the Proteomics Unit services and it is considered a true investment that leads to mid-term benefits in terms of improved scientific results and higher research quality.
EMBO Practical Course on Targeted Proteomics. November 2014.
Courses@CRG: Advanced proteomics course for molecular and cellular biologists. July 2014.
---
Selected Publications
Cantó E, Tintoré M, Villar LM, Borràs E, Alvarez-Cermeño JC, Chiva C, Sabidó E, Rovira A, Montalban X, Comabella M.
"Validation of semaphorin 7A and ala-β-his-dipeptidase as biomarkers associated with the conversion from clinically isolated syndrome to multiple sclerosis."
J Neuroinflammation, 11:181. doi: 10.1186/s12974-014-0181-8 (2014).
Beltran-Alvarez P, Tarradas A, Chiva C, Pérez-Serra A, Batlle M, Pérez-Villa F, Schulte U, Sabidó E, Brugada R, Pagans S.
"Identification of N-terminal protein acetylation and arginine methylation of the voltage-gated sodium channel in end-stage heart failure human heart."
J Mol Cell Cardiol, 76:126-9. doi: 10.1016/j.yjmcc.2014.08.014 (2014).
Yang JS, Sabidó E, Serrano L, Kiel C.
"TAPAS: tools to assist the targeted protein quantification of human alternative splice variants."
Bioinformatics, 30(20):2989-90. doi: 10.1093/bioinformatics/btu428 (2014).
Chiva C, Ortega M, Sabidó E.
"Influence of the digestion technique, protease, and missed cleavage peptides in protein quantitation."
J Proteome Res, 13(9):3979-86. doi: 10.1021/pr500294d (2014).
Meijer HJ, Mancuso FM, Espadas G, Seidl MF, Chiva C, Govers F, Sabidó E.
"Profiling the secretome and extracellular proteome of the potato late blight pathogen Phytophthora infestans."
Mol Cell Proteomics, 13(8):2101-13. doi: 10.1074/mcp.M113.035873 (2014).
Vrijheid M, Slama R, Robinson O, Chatzi L, Coen M, van den Hazel P, Thomsen C, Wright J, Athersuch TJ, Avellana N, Basagaña X, Brochot C, Bucchini L, Bustamante M, Carracedo A, Casas M, Estivill X, Fairley L, van Gent D, Gonzalez JR, Granum B, Gražulevičienė R, Gutzkow KB, Julvez J, Keun HC, Kogevinas M, McEachan RR, Meltzer HM, Sabidó E, Schwarze PE, Siroux V, Sunyer J, Want EJ, Zeman F, Nieuwenhuijsen MJ.
"The human early-life exposome (HELIX): project rationale and design."
Environ Health Perspect, 122(6):535-44. doi: 10.1289/ehp.1307204 (2014).
Ferreira R, Vitorino R, Padrão AI, Espadas G, Mancuso FM, Moreira-Gonçalves D, Castro-Sousa G, Henriques-Coelho T, Oliveira PA, Barros AS, Duarte JA, Sabidó E, Amado F.
"Lifelong exercise training modulates cardiac mitochondrial phosphoproteome in rats."
J Proteome Res, 13(4):2045-55. doi: 10.1021/pr4011926 (2014).
Chang CY, Sabidó E, Aebersold R, Vitek O.
"Targeted protein quantification using sparse reference labeling."
Nat Methods, 11(3):301-4. doi: 10.1038/nmeth.2806 (2014).
Kiel C, Ebhardt HA, Burnier J, Portugal C, Sabidó E, Zimmermann T, Aebersold R, Serrano L.
"Quantification of ErbB network proteins in three cell types using complementary approaches identifies cell-general and cell-type-specific signaling proteins." Proteome Res,13(1):300-13. doi: 10.1021/pr400878x (2014).
Chiva C, Sabidó E.
"HCD-only fragmentation method balances peptide identification and quantitation of TMT-labeled samples in hybrid linear ion trap/orbitrap mass spectrometers."
J Proteomics, 96:263-70. doi: 10.1016/j.jprot.2013.11.013 (2014).