Structural Genomics (Group with Dual Affiliation CRG-CNAG)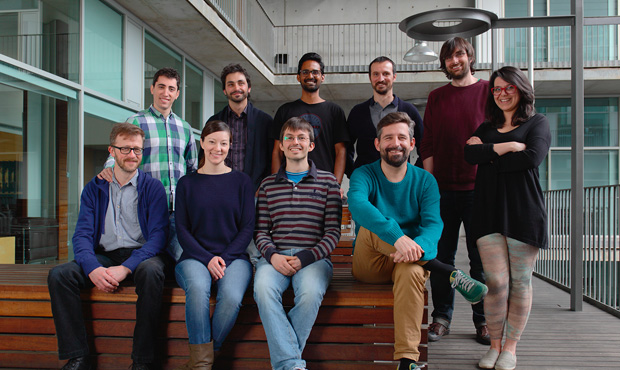 GROUP LEADER:

Marc A. Marti-Renom (ICREA Research Professor)

STAFF SCIENTIST:

Davide Baù

POSTDOCTORAL FELLOWS:

François Serra, Yannick Spill, Marco di Stefano

PhD STUDENTS:

David Dufour, Francisco Martínez-Jiménez, Gireesh K. Bogu

PROGRAMMER/TECHNICIAN:

Michael Goodstadt

LABORATORY TECHNICIAN:

Yasmina Cuartero
---
Summary
Our group is interested in the molecular mechanisms that regulate cell fate. To study such mechanisms, we employ the laws of physics and the rules of evolution to develop and apply computational methods for predicting the 3D structures of macromolecules and their complexes.
---
Research Projects
Structure determination of genomes. We develop methods for determining the 3D organization of the chromatin
Comparative RNA structure prediction. We develop a series of tools for the alignment of RNA structures and the prediction of their structures and functions.
Protein-Ligand interactions. We develop methods for comparative docking of small chemical compounds and their target proteins.
---
Selected Publications
Dufour D and Marti-Renom MA.
"Software for predicting the 3D structure of RNA molecules."
WIREs Comput Mol Sci, 5:56–61 (2014).
Le Dily F, Baù D, Pohl A, Vicent GP, Serra F, Soronellas D, Castellano G, Wright RHG, Ballare C, Filion G, Marti-Renom MA and Beato M.
"Distinct structural transitions of chromatin topological domains correlate with coordinated hormone-induced gene regulation."
Genes & Dev, 28:2151-2162 (2014).